Mold spores are present almost everywhere. Inside a house, mold spores are not a problem if the count is low. When the count becomes high, it may be a cause for respiratory problems such as asthma.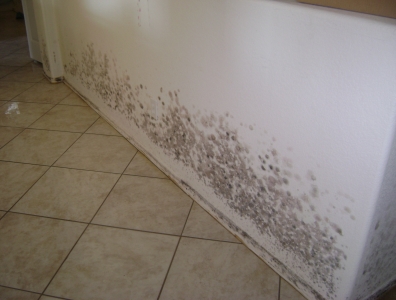 Mold requires certain conditions to grow. First is the presence of organic materials that serve as food for mold growth. Unfortunately, many building materials, such as wood, paper and glue, are examples of such organic materials that are unavoidable. Second is moisture, which is more controllable than the previous one. Wet surfaces and high humidity are conducive to mold growth. Mold growth rate accelerates with increase in humidity. This is particularly important for houses that are tightly sealed and well insulated for energy efficiency. Moisture can be trapped inside a house as there is no passage for it to escape.
Besides helping mold growth, excessive moisture can also cause dust mites to breed faster, increase in cockroaches/cockroach feces and higher off-gassing of formaldehyde. All of these can further exacerbate respiration illness.
To mitigate moisture and mold problems inside a house, here are some tips.
Fix all water leakage from roof, plumbing and any other source.

Keep moisture from crawl spaces from entering the house. An excellent way is to lay 6 to 10 mil polyurethane on the ground of crawl spaces. That will drastically reduce the amount of moisture from coming up.
Keep the relative humidity of the house to below 40-50%. Install bathroom and kitchen exhaust fans. Bathroom fans should be equipped with timers to run for 15-20 minutes after showers. Install mechanical ventilation systems to bring in sufficient make-up air from outside. In humid climates, an Energy Recovery Ventilation (ERV) may be used in conjunction with an air-conditioner to reduce the moisture of exterior air prior to introducing it into the house.
Installing French drains around the perimeter of a basement. Install a sump pump to remove the water.