The floor covers the entire area of a house. It gets heavily used. Children play on floors. It is important to choose flooring materials that ensure a healthy environment and fit your living style. Here is a table comparing different types of green flooring materials.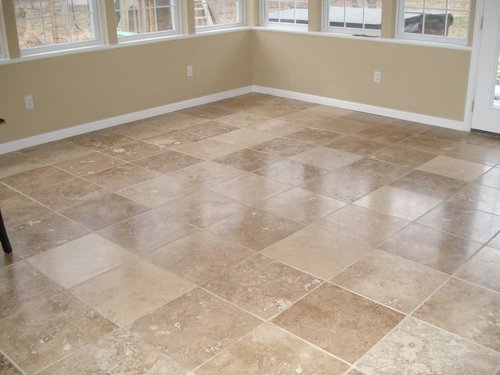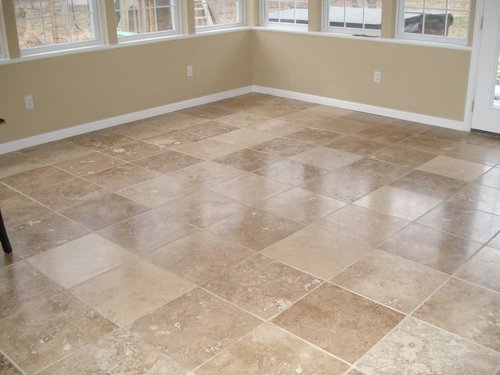 Travertine stone floor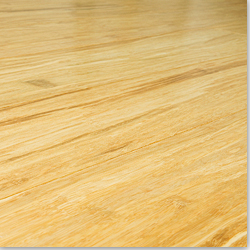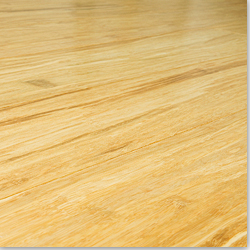 Woven bamboo floor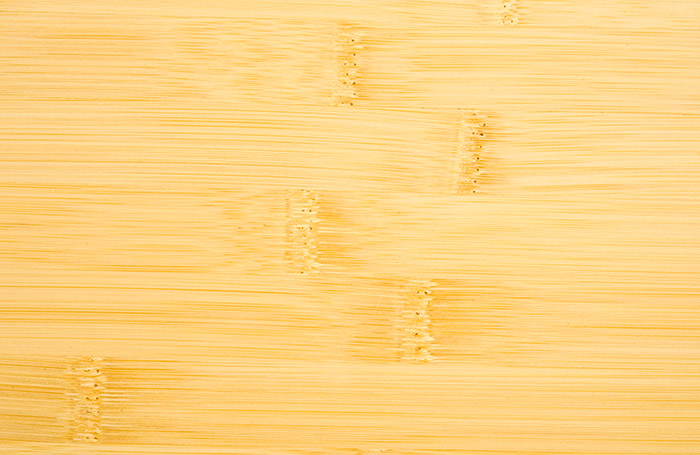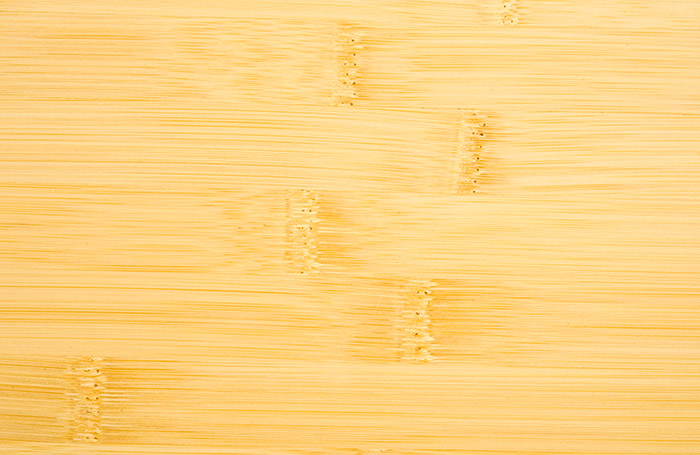 Horizontal bamboo floor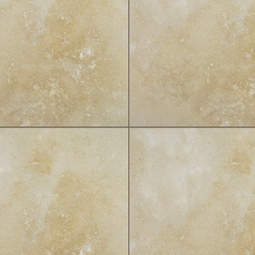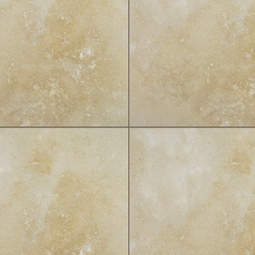 Travertine stone floor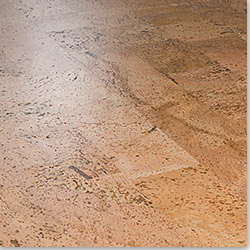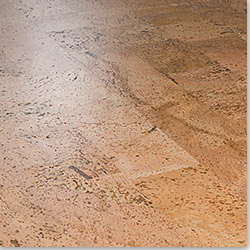 Cork floor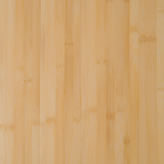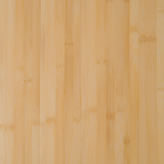 Solid bamboo floor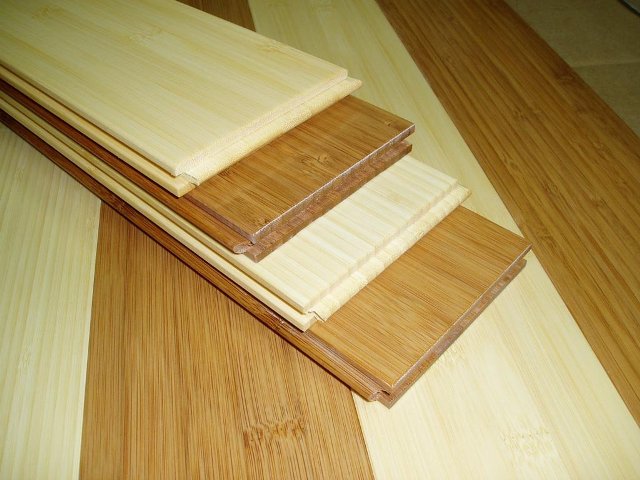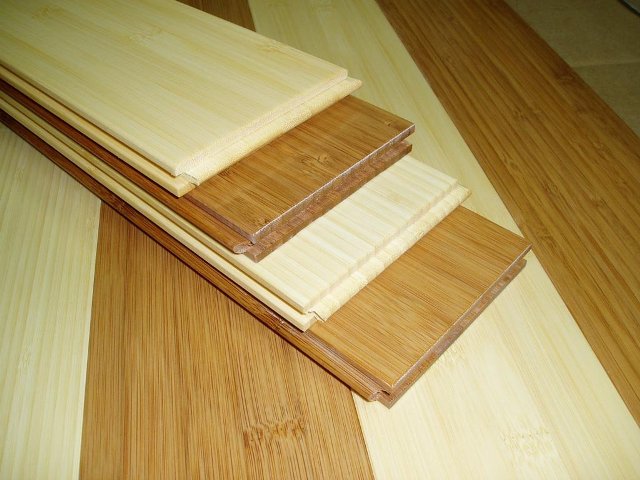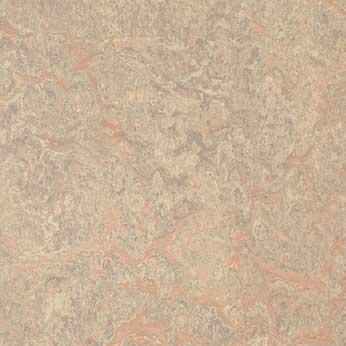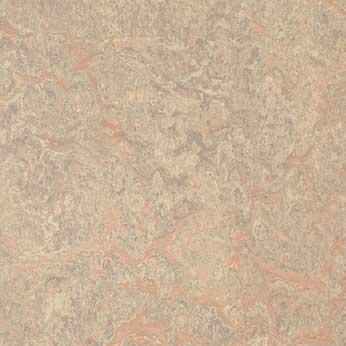 Linoleum floor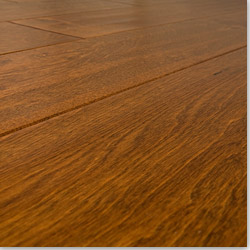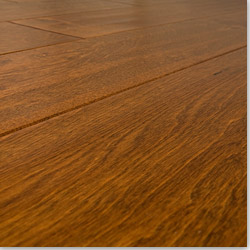 Engineered wood floor
Material
General Description
Advantages
Disadvantages
Product Green Check
Bamboo

Bamboo floors are typically engineered by bonding smaller strips of bamboo horizontally, vertically, or in strand-woven manner.
Bamboo flooring is relatively new to the North American market, hence the product qualities vary, depending on the manufacturers and the type, age of bamboo used.

Bamboo is one of the most sustainable resources. Technically a grass, it is a fast growing and resilient plant which requires little attention, such as irrigation, fertilization and pest management.
Bamboo flooring is durable.
It has enough hardness but still easy on the leg and back.
Solid bamboo products can be resanded many times.

Quality varies and that impacts the durability.
Bamboo can warp under moist condition hence unfavorably for bathroom uses.
More brittle hence may dent, chip or scratch.
Color may fade over time.
Bamboo grows mostly in Asia, thus may increase the transportation cost to other parts of the world.

Check that the bonding materials do not contain formaldehyde.
Make sure the sealants and finishing have low to no VOC.
Look for high quality products.

Concrete

New concrete floor is made by combining cement, water and aggregates such as gravel, sand, stone and rocks to improve stability.
Recycled concrete includes made out of various industrial waste materials such as fly ash.

Long lasting.
Has high thermal mass so it can be used to store solar heat during day time.
Works well with radiant floor heating system.

Heavy and very hard surface, hard for the body joints and back.
May crack which will show.
Porous material that can stain. Frequent application of sealant or wax may reduce staining possibility.
Making concrete is an energy intensive process.

Look for products that are made from recycled materials.

Cork

Made from the bark of cork trees, by grinding the material, adding bonding agents, gluing into sheets and baking into finished pieces. Many patterns and colors are available.
Cork floor has been used for over a century in commercial and public buildings such as schools and only in recent years manufactured for the residential market.

Has a natural fire inhibiting substance. Generally moisture and stain resistant.
Has heat and sound insulating properties. Warm to the feet.
Cork is naturally hypoallergenic. Also has shock absorbing property so it is easy on people's joints.
Despite the apparent softness cork is remarkable tough, being resilient to pressure and impact. Cork bark is a sustainable material which replenishes itself quickly.
Can be finished with water-based polyurethane or plant-based oil.

Does not complement floor radiant heating system.
Mild linseed oil scent.
Requires careful floor preparation during installation to ensure evenness.
Prolong exposure to water can damage the floor like other natural material.
Prolong exposure to sun can cause color to fade.

Check that the bonding materials do not contain formaldehyde.
Make sure the sealants, finishing, and adhesives used during installation have low to no VOC.

Engineered Wood

Typically made by laminating layers of wood together, the topmost layer (veneer) being the best layer for good looks and finished for use. The sub layers may be particle board.

Conserves the more valuable wood for the surface by using faster growing wood in the sub layers.
Shares many of the durability and comfort advantages of solid wood.

The hardwood veneer can only be resanded a small number of times because of the thinness.
Processing is required to glue the layers together.
Similar disadvantages as solid wood.

Check that the bonding materials and the sub layers do not contain formaldehyde.
Make sure the sealants and finishing have low to no VOC.
Avoid faux-wood laminates.

Linoleum

Linoleum is made by pressing renewable materials such as solidified linseed oil pine rosin, ground cork dust, wood flour, mineral fillers such as limestone and pigment together, most commonly on a burlap or canvas backing.
It has been used for over 150 years and is recently making a comeback into the residential market. Often confused with vinyl floor, it has yet gain popularity as a quality product.
Available in sheet or tile form.

Source material is renewable, durable.
Linoleum is resilient hence comfort and easy for the joints and back.
Antibacterial. Water resistant.
Small dents and gouges will heal as the linoleum expands to fill them.
Does not hold static electricity.
Easy to clean.

The smell from the linseed oil ingredient may persist.
While linoleum is water resistant, it is important to keep moisture coming up from beneath and to keep the subfloor dry. Sealing the joints is important.
Installation required skill so DIY may not be a good option.

Ensure that adhesives used during installation have low to no VOC.
Do not mistake vinyl floor for linoleum.

Solid Wood

Many different kinds of wood can be used, the most popular being pine, oak, walnut and cherry.
Price will depend on the quality and finish.

Solid wood can be sanded and refinished many times. They can also be reused.
Wood floor does not collect dust and is easy to clean.
Wood floor can provide nice decoration from the pattern of the wood.
While wood floor is strong and tough, it is still comfortable to stand on.

Wood is quite expensive, particularly for rare woods.
Preparation of subfloor and floor installation itself takes time and must be done carefully to keep moisture away and avoid warps. Hence the labor cost will be higher.
Wood floor can be slippery to walk on in socks.

Look for FSC label, and reused floor. Make sure the sealants and finishing have low to no VOC.

Stone

Many different types are available. A popular one is travertine. Another is marble. They are quarries, cut and milled into small slabs. The fabricator will do the final polishing and sealing.

Long lasting.
Material is often available from regional quarries, and requires little processing. Salvaged stones are available.
Heavy material with good thermal mass to store sun's heat during the day.

Hard surface for the joints and back.
Heavy material with good thermal mass to store sun's heat during the day.
Some stones may stain.
Some stones such as marble may be slippery, particularly when wet.

Look for stones that are quarried as close to your home as possible.
Use low to no VOC sealants.

Tile

Tiles are made by pressing wet clay into shape then left to sun dry or kiln dry. They are then glazed and baked.

Material is a natural and abundant source.
Durable. Moisture and stain resistant. Non toxic.
Easy to clean.
Many are manufactured locally.
Broken pieces can be replaced easily.

Hard on joints and back.
While the tiles themselves are stain resistant, the grout does not. Grout further absorbs moisture and allows mold to develop.
Minimize grout line during installation, seal the grout.
Depending on the glaze, tiles may be slippery.

Look for locally made products.
Ensure low to no VOC additives are used.

Wool Carpet

Wool carpet has been used for ages. The most popular form was area rugs with great woven patterns. Nowadays, wall-to-wall wool carpets are readily available. Wool carpets are more expensive than those made from synthetic materials.

Wool replenishes readily.
More durable than synthetic fiber. Strong resilience to wear and tear, and retains shape well. Dye fast.
It has high heat and sound insulating properties. Absorbs moisture without showing wetness.
Soft, warm, comfortable feel, and non-slippery.
Natural fire retardant.

More expensive than other carpets made from synthetic materials, but are comparable to wood floors.
All carpets will trap dust so frequent vacuuming is required.
Wool carpets may shed.
May stain.
Required periodic wet or dry cleaning.

Look for material from farms that do not use toxic chemicals to raise sheep or treat the wool.
Look for products that are not treated with toxic insecticide during manufacturing.
Make sure non-toxic, low to low VOC adhesives are used during installation.