Email This Post
With the energy efficiency measures we are taking: air sealing, more insulation, triple-pane windows, etc, we know that the HVAC (heating ventilation air condition) requirement will be much lower than most houses in the neighborhood. Normally a detailed calculation using the ACCA Manual J (Heating and Cooling requirement calculation) and Manual D (duct size calculation) guidelines with commercial software tools will give good answers.
Dave Robinson, however, has developed a simple spread sheet that does a quick Manual J calculation. For houses between 1500 to 2000 sq ft, his spread sheet usually comes to within 10% of the full calculation. We don't need to use Manual D as we are not planning to use ducts that are outside of the conditioned space. We still expect our HVAC contractor to run the full Manual J calculation to validate our results.
Dave's calculation shows that the heating load is about 25,500 BTU and the cooling load is 23,500 BTU. This means that we will only need a small HVAC system to provide comfort for this house.
Some of the key input to Dave's calculation about this house are:
Room temperature to be maintained at 70 deg F in winter, 75 deg F in summer
Designed winter outside temperature is 0 deg F, summer outside temperature is 85 deg F
Best air infiltration at .3 ACH (air change per hour) in winter, .2 in summer
Attic insulation at R-60 (see Insulation Material for an explanation of R-value)
Ceiling insulation at R-19
Wall insulation at R-19
Floor insulation at R-11
Triple pane windows at R-5.5
It turns out that air infiltration is one of the most important parameters. Changing the winter number from .3 to 1 ACH (already considered good in many homes) can double the heat load. Air sealing is really important to reduce infiltration but is often overlooked while people add insulation to the homes.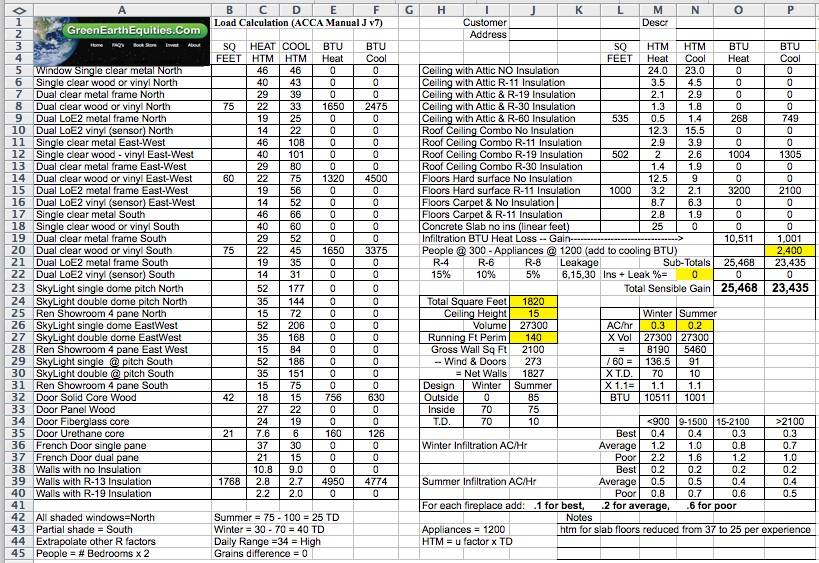 Coming next: HVAC Equipment Selection
See also: Partnering With Green Hearted Companies and the entire From Foreclosure To Green Home series.

Email This Post